SAMPLE-D
| | |
| --- | --- |
| Model: | SAMPLE-d |
| Place of Origin: | Zhejiang,China (Mainland) |
| Brand Name: | Webitelecomms |
| Products name: | cold aisle / Data center |
| Material: | SPCC cold rolled steel or EG steel |
| Package:: | assemble or dis-assemble |
| Colour: | black, gery ,white etc |
| Aisle wgoods_idth: | 1200 mm |
| Plinth height: | 100 mm |
| Fire protection: | Gas fire-proof |

Contact Now
Product Description
The Aisle-Cocooning System is a cold aisle containment solution that provides segregation of cold aisle air flow from hot aisle exhaust air, in data centers.
This protects equipment against damage, prolongs equipment life, reduces the load on the computer room air conditioning and saves energy, reducing carbon footprint.
You can choose between two types of cocooning:
Passive - quick-fit overhead panels that are fixed in place

Active - quick-fit overhead panels that open automatically in case of fire, allowing overhead fire suppresent into the aisles
The whole infrastructure is:
Modular

Quick-Fit

Effective

Re-locatable

Inexpensive

How does it work?
The Aisle-Cocoon concept is technically elegant. Stated simply, all significant air pathways from the hot aisle to the cold aisle are blocked.
The aisle containment solution from Webitelecomms provides a system of overhead aisle panels and aisle end doors which effectively seal off, usually the cold aisle.

This ensures that the cold air emitted from the floor is sealed in a "cocoon" and is therefore unaffected by hot exhaust air.
The cooling air can only exit through the equipment for which it is intended.

All Aisle-Cocooning components such as overhead panels and aisle end doors are fixed to the cabinet bay structure alone and not connected to the room structure.
Features
Segregated cold aisle air flow from hot aisle air flow

Maximises cooling effect of cold aisle

Reduces workload of computer room air conditioning

Reduces energy cost

Reduces carbon footprint

Passive cocooning versions

Active cocooning versions with automated panel opening for instances of fire

Totally integrated with cabinet infrastructure

Not connected to the building

Can be quickly installed

Easily relocated

CannonGuard remote management upgrades

Can be retrofitted to existing bays of enclosures with the use of customising kits

Within aisle lighting upgrades
Specification
Fully compatible with Webit WB-SA or WB-9F series

Modular overhead cocooning panels, with Quick-Fit mounting pins

High transparency polycarbonate glazing in panels

Alternative panel materials: wired glass or steel

Standard aisle widths include 1200mm and 1800mm; alternative aisle widths available

Cocooning panels to match cabinet widths (600mm, 700mm and 800mm)

Alternative cocooning panel widths available

Hinge door or sliding aisle end doors

Half glazed end doors for increased damage resistance

Remote temperature monitoring of various aisle points using WebitGuard (optional upgrade)

Active cocooning panels opened by electronic actuators for sprinkler water ingress

Will fit any cabinet size

Can be extended to form a complete data center 'pod' for disaster recovery development or temporary use
Aisle width: 1200 mm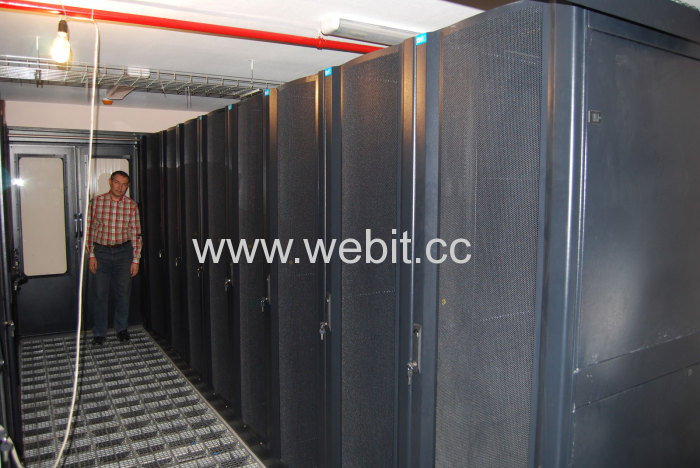 Rised floor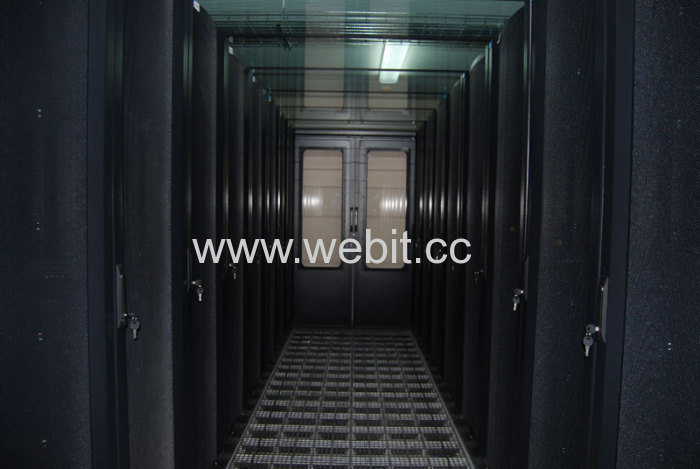 Front sliding doors